About The War On I-4
In September 2016, the University of Central Florida and University of South Florida announced their joint creation of a rivalry series to unite the communities and campuses in Tampa Bay and Orlando in an annual competition.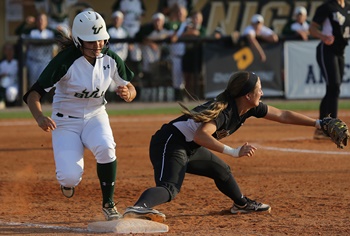 UCF's and USF's fan bases have long engaged in a passionate rivalry between the universities divided by 100 miles and the I-4 corridor between Tampa and Orlando. The Green and Gold and the Black and Gold will now compete for year-long bragging rights in one of the freshest and most energized rivalries in college athletics.

To add even more spice to the rivalry, the winner of the UCF-USF football game will now get to hoist a pair of new trophies -- one for the winner of the November football game and one for the overall winner of the series.
Starting with the 2016-17 American Athletic Conference regular season, the Knights and Bulls will compete in a rivalry series -- a yearly scored competition highlighted by the annual Thanksgiving weekend clash between the universities' football teams.
The competition will feature scoring in head-to-head contests between all of the universities' sports teams. Sports that don't compete directly against each other accrue points for best conference post-season performance.
Academics come into play in this rivalry, as well. The official tie-breaker for the War On I-4 is the annual Graduation Success Rate, which is anounced by the NCAA each year.

Together, Orlando and Tampa combine to make the fourth-largest television market in the country, behind only New York, Los Angeles and Chicago. In addition, 54 percent of alumni from Florida universities/schools residing in Central Florida are USF and UCF graduates.
The rivalry's on-field competition components in total will include head-to-head battles in football, men's and women's basketball, baseball, softball, soccer, volleyball and tennis. Points will be awarded to the overall winner of the season series in sports with multiple meetings. For the sports of cross country, golf and track and field, the program with the best finish in the conference championship will receive points.
War On I-4 Scoring
Baseball - 6 points
1 point for each of 6 games
Men's Basketball - 6 points
3 points for each of 2 games
Women's Basketball - 6 points
3 points for each of 2 games
Women's Cross Country - 6 points
6 points to higher finisher at AAC Championship
Football - 6 points
6 points to winner of annual game
Men's Golf - 6 points
6 points to higher finisher at AAC Championship
Women's Golf - 6 points
6 points to higher finisher at AAC Championship
Men's Soccer - 6 points
6 points to winner of annual match
Women's Soccer - 6 points
6 points to winner of annual match
Softball - 6 points
2 points for each of 3 games
Men's Tennis - 6 points
6 points to head-to-head winner or higher finish at AAC Championship
Women's Tennis - 6 points
6 points to head-to-head winner or higher finish at AAC Championship
Women's Track and Field - 6 points
3 points to higher finish at AAC Indoor and Outdoor Championship
Volleyball - 6 points
3 points for each of 2 matches
NCAA Graduation Success Rate to serve as tie-breaker
UCF does not sponsor: Men's Track and Field, Men's Cross Country, Sailing
USF does not sponsor: Rowing
NCAA Postseason competition is not included in rivalry series